A Lighting Tradition in Reno-Sparks & Beyond
Have Lights Will Travel is Nevada's premier mobile lighting contractor. Locally owned and operated, the company has been in business for over 35 years and specializes in commercial and industrial lighting maintenance and energy-efficient retrofits.
A Company History
Kyle McClelland got his start at Have Lights Will Travel in 2005, after asking Reg Willison, founder, when he was going to hire him. Kyle started work the very next day, and after his graduation from the University of Reno four years later, he asked Reg another question – when would he sell him the business? The pair worked out an arrangement, and in 2017, Kyle finished buying out Reg and became the full owner of Have Lights Will Travel. With the framework of this long-running northern Nevada lighting contractor well established, Kyle had big plans for additional growth and performance.
By 2019, he had expanded the business into southern Nevada and points of California, and he's currently in the process of securing licenses in Arizona, Utah, New Mexico, Idaho, and Colorado. Along the way, Have Lights has developed a reputation as one of the most knowledgeable and technologically advanced companies in town, with a highly customized approach to customer service. While the focus is always the same – delivering the best option to the customer – Have Lights recognizes that every project has its own unique challenges, and the company is known for its innovative approach and experienced team.
Kyle's vision for Have Lights also includes a deep commitment to the community. As an active member of the Entrepreneurs' Organization, which exists to build better businesses, Have Lights is proud to maintain a company culture in which every team member is valued and supported. It's the basis for the core values at Have Lights: trust and respect, accountability, constant improvement, cutting edge, caring for others, and optimistic. These are the kinds of values that build both a family and a company proud to stand behind its team and its work.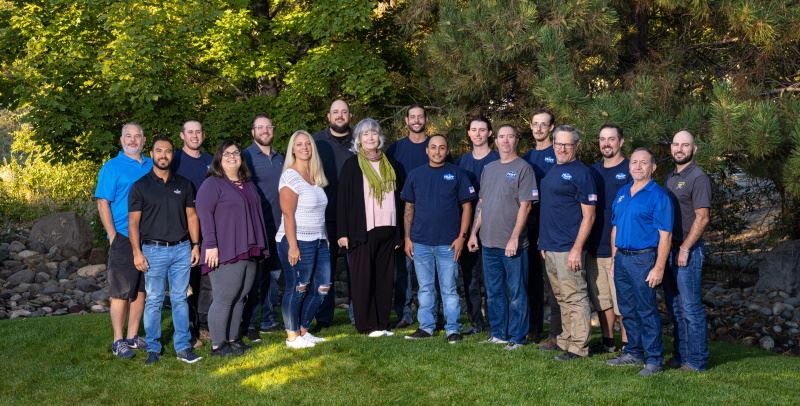 Proven Record of Success GLOWING REVIEWS

"We had a walk-through done of our warehouse. We lighting and track lighting issues. HLWT came out and replaced, troubleshot, and repaired everything we needed in one trip. That's how it's done, people! Huge shoutout to these guys!"

- Yvette W.

"Great experience! Everyone I came in contact with had excellent customer service and communication. Great job and was on time. Would recommend them and use again!"

- Tracy H.

"Have Lights Will Travel did a great job. Tthey brought all the right equipment to get the job done quickly and efficiently. Thank you HLWT!"

- Barbara R.

"Raul has helped me with my lighting for years and his communication and workmanship are outstanding!"

- Francis T.

"Our company has used HLWT for 20 years. We had old fluorescent fixtures switched out to LED tubes and WOW what a difference it made. The staff is very efficient, clean, and willing to work within our budget. Highly recommend this very professional team of "

- Rick G.

"Super great, excellent service with top-notch friendly staff."

- Taz M.

"Best lighting company I have ever dealt with! Great products and service."

- Kyle E.

"Tech has shown up at the right address and is working on my lighting issues now. Thank you for being professional. I will use you in the future with my south lake Tahoe business. Keep up the good work."

- Carey S.

Why Wait? Contact us today using the form below or give us a call at
775-355-6301

.